HURRAY! You are now LoggedIn!
Our Story
There Is No Better Chef Than A Mother...
With the lip-smacking food made by the mothers themselves, our restaurant 'Bhena Da Dhaba' makes you feel like it's a home away from home.
It's all about the love and affection of a woman while she cooks that actually renders the apt taste to the food and holding true to the same, our very own female entrepreneurs (Paramjeet Kaur and Sharanjeet Kaur) have left no stone unturned in doing the same. And encouraging it, the entire family joined hands to take this venture onto new heights.
Read More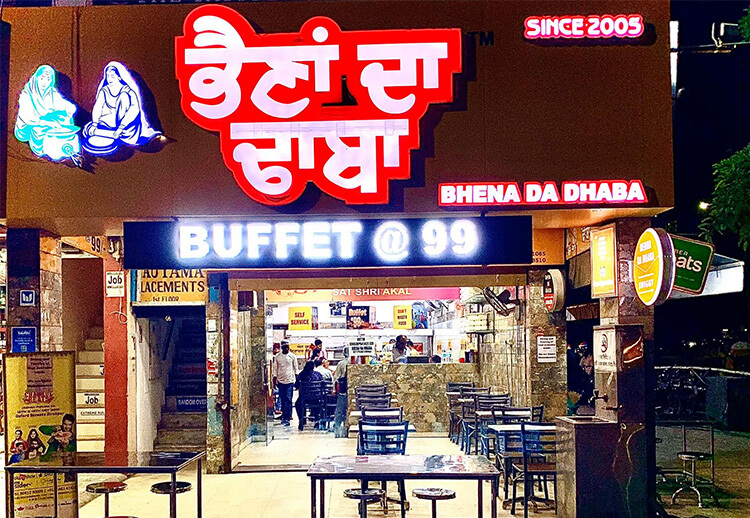 Anyone who lives in Mohali must have had their food ones. Their online food options are so pocket-friendly with no compromise on taste or quantity served. Also, the packing is so intact that there is never a spillage (since I have ordered Many times, I can say so).
Sehaj Walia
Okay so bhena da dhaba has a buffet of just Rs 99. how cool is that. all veg items and all them were just amazing. i tried daal makhani which was just finger licking good. nutri, paneer, mix veg. and all types of bread, naan, lacchha paratha, tandoori roti. everything was on point. Now, the best part, Dessert - halwa was mind blowing. never had this tasty halwa before. Best place to have veg buffet. Quality and pricing both are great. Thank You
Manoj
I have visited this place today. This place was amazing. They have an unlimited buffet at Rs.99 only. I love this concept. And in the buffet everything was so delicious. I have tried many dishes. I suggest everyone to try their food as they are serving very yummy food at a reasonable price. So everyone should try their food.
Vaibhav Arora
As I had heard and read on Zomato.... Bhena da Dhaba deserves the top position it is at present. Good personalized packaging that does not allow the food to spill. Fresh and tasty food right on time. The best thing in the food was the Paneer bhurji and the vegetable pulao. Rotis were fresh and no makhan applied, making it health conscious. Maintain the quality as it is guys.
Crazyfortasty
Download
The App Now!
You are just a few simple steps away from ordering the choice of your fresh quality meat. Browse all the items in the product catalog and have easy access to all the high quality products from our catalog. You can easily choose from the categories with detailed descriptions of all the items.